LOTS HAPPENING IN FULSHEAR!
It seems that changes are happening daily in Fulshear, and almost too fast to keep up with all of them! So, here are just a few of the new construction projects that, I thought would be helpful to share with you.
NEW COMMUNITIES
Fulshear Lakes:
Are you wondering what all that dirt work is being done directly across from Weston Lakes, that can now be witnessed travelling along FM 1093?  This is the first section of what will be Fulshear Lakes and borders (the new) Morgan Elementary. Sam Yager Development has been working with the City of Fulshear for years. Persistence has paid off though, and the first five sections, of this 558-acre community have been platted and construction is well underway.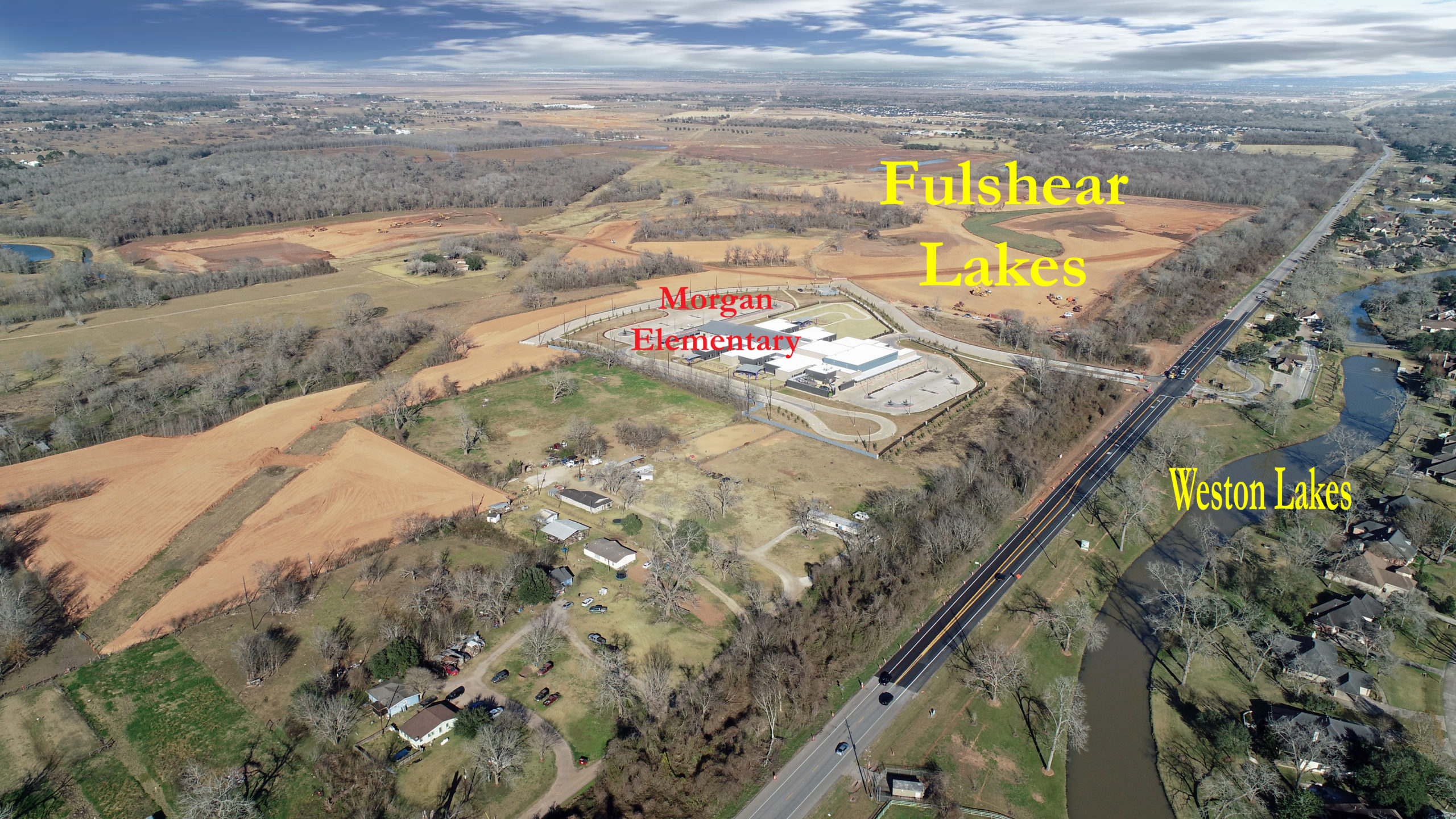 Pecan Ridge:
I was pleased to have sold this 296-acre tract which will soon be home to nearly 800 families. This Master Planned Community is located next to Del Webb at the corner of Rogers Road and FM 359. This upscale community will offer homes by Tri Pointe and Toll Brother's; both very good Builders. However, the lot sizes will be smaller, with a combination of 45's, 50's and 60's. The largest percentage being the 50's. Why smaller sized lots? That's because as land prices rise, the size of homesites decrease to keep home prices affordable. This fact differentiates the new from most older communities that offer larger settings.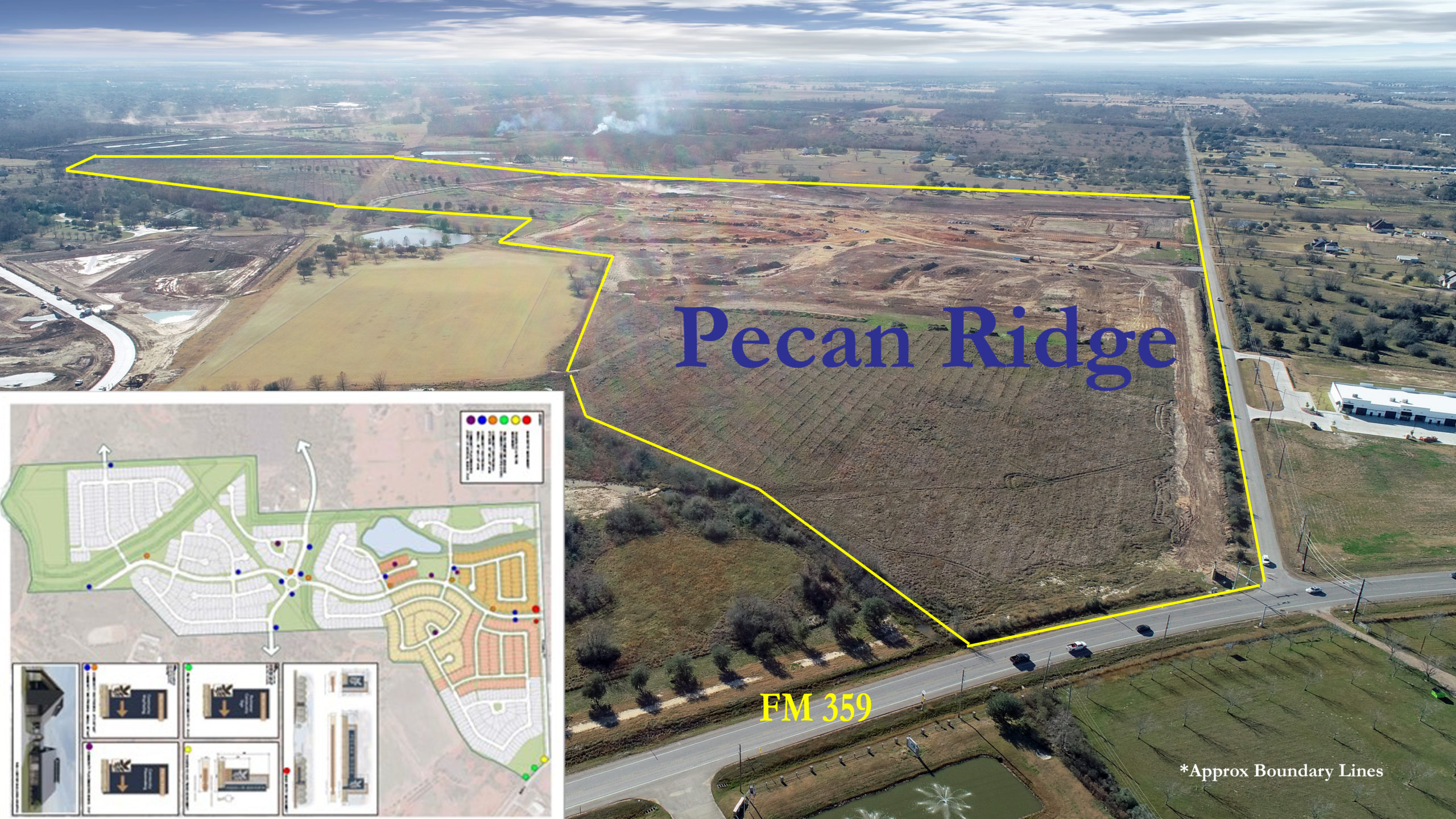 James Lane:
This is one of the most preferred addresses in the greater Fulshear Area with stunning pastoral views and is home to some of the area's finest country properties.  Development is occurring throughout Fulshear, and James Lane is not immune to the growth. Tri Pointe Homes (formerly Trendmaker) recently purchased approximately 70-acres at the end of the road. This new community will consist of just 38-exclusive homes, each on at least 1-acre with many backing up to Bessie's Creek.  No prices have been established, yet I anticipate they will start in the high $800's.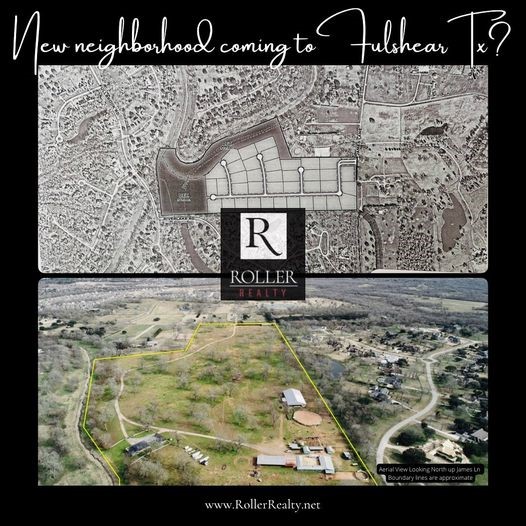 Del Webb Fulshear
Next to Polo Ranch is Del Webb which will be a welcomed addition to the area. This is an over "55", Adult Community located on over 250-acres.  Del Webb has earned a reputation over 60-years, for providing quality, yet affordable active retirement living with resort style amenities. Opening is planned for the Summer.
Section 1 and Section 2 have submitted their final plat. Pulte Homes owns both sections. Section 1 consists of a little under 20 acres, with plans for 130 lots and 6 Reserves for landscaping, open space and an amenity center. Section 2, has around 16 acres, with plans for 78-lots and 3-Reserves.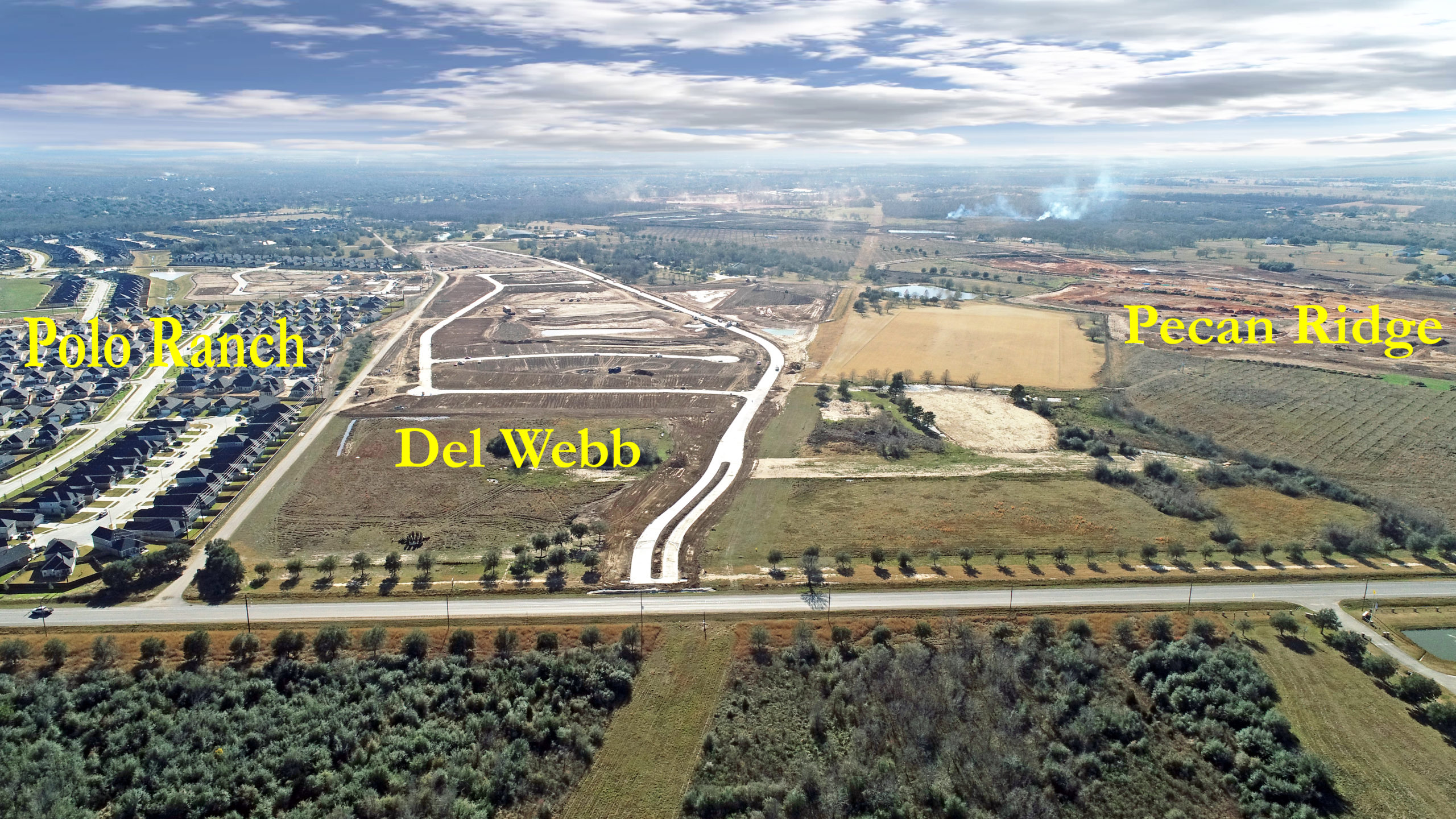 FULBROOK ON FULSHEAR CREEK:
Preliminary Plats have been submitted to the City for 4-more Sections. Section 7 will have 3-Reserves and 93 lots, Section 17 will have 89, 60' wide lots, Section 18 will have 6 Reserves and 71 lots, and Section 19 will have 82, 50' wide lots). (Plat maps for all the sections in this document) https://cms3files.revize.com/fulshearnew/4%20Packet%20(regular)%201.18.22.pdf)
TAMARRON:
Final Plats that have been submitted to the City for Tamarron West that will extend Tamarron Blvd. to both Woods Rd and Jordan Ranch. Amazing! This means you can travel from FM 1463 all the way to Woods Road and FM 359. The six Sections will be added and all are currently being developed.
ALDERS AT CROSS CREEK:
This is the new "Senior Living" complex for those ages 62 and older. It is located to the east of the main entrance and across from the Observation Tower. As you may have noticed, this project is well underway.  The development will offer 172, one and two bedroom apartments. It will also include approximately 19,000 square feet of club-like amenities, including a pub-style gameroom with private wine lockers, internet coffee bar, heated pool and spa, a fitness center, movie theater, arts and crafts room, hair and nail salon, putting green and dog park. An activities director will coordinate events. Pre-leasing is expected to begin mid-2022, with the community slated for completion in January 2023. (See community map at the end).
NEW FORT BEND COUNTY LIBRARY:
The new library will replace the Bob Lutts Fulshear/Simonton Library that is in downtown Fulshear. The new 5-acre site was donated by the Ginter family and is located on Texas Heritage Parkway at the first traffic circle and across from Fulshear High School. Until it's formally named, the operating name is Precinct 3 North Library. (See community map at the end).
ARGONNE:
Groundwork has begun for the first new apartment complex in Fulshear. It is located in Cross Creek Ranch behind the Credit Union on FM 1093 . It will have about 348 units, ranging from Studios to 3-Bedrooms.  The developer is Judwin, who recently completed Parklane Fulshear, the apartment complex just off FM 1463 by HEB and Jordan High School. (See aerial below and the community map farther below).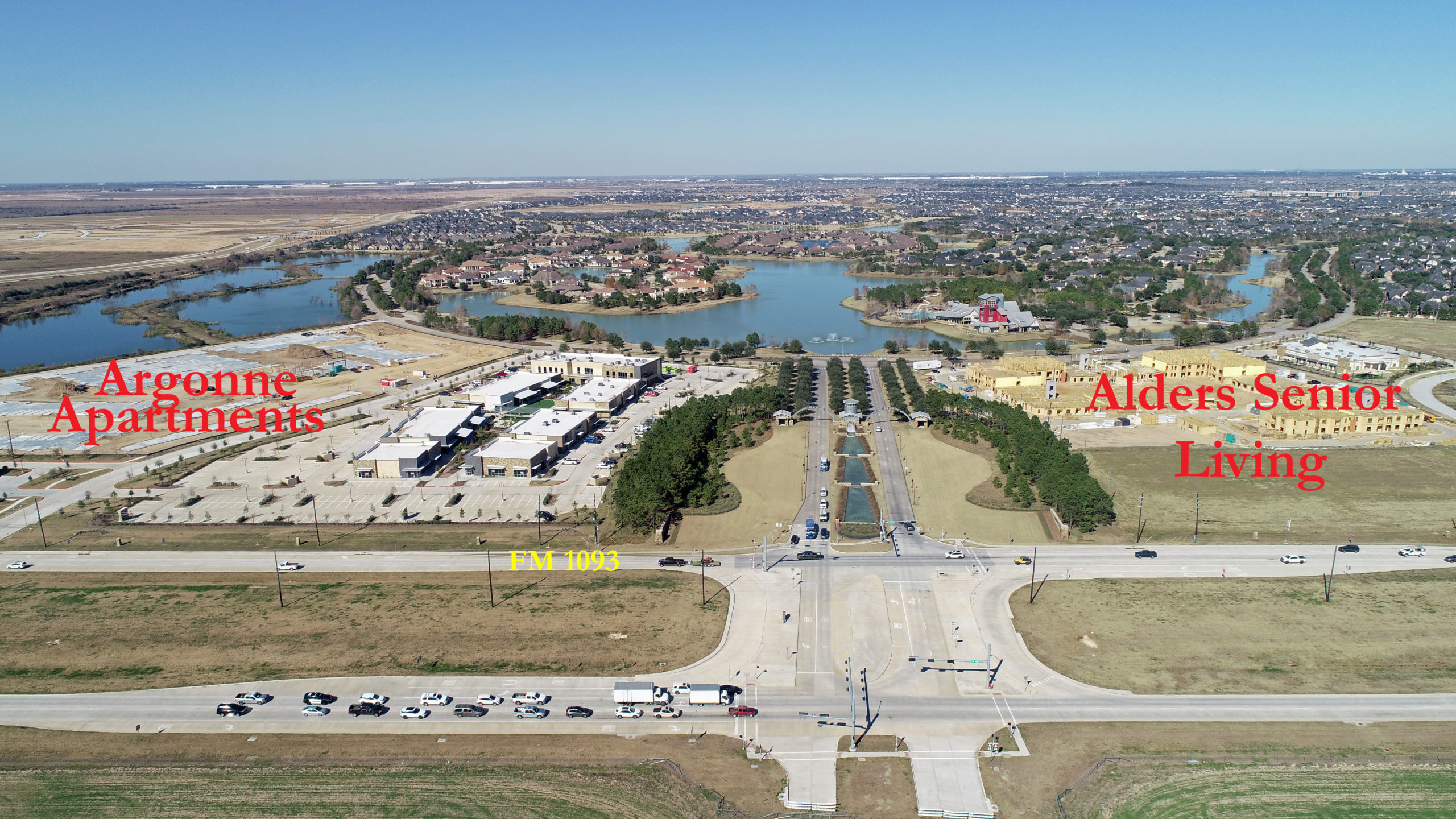 BROADSTONE  CREEK:
This is another multifamily development that is also located in Cross Creek Ranch. This 348-unit complex received final plat approved by the City. Broadstone has a reputation for also building higher-end complexes and should be compatible in meeting Cross Creeks standards. Eventually, we hope that many of these residents of Broadstone and Argonne will become move-up homebuyers in the Fulshear area. (see community map below)